The extra large dimensions of the mirrors (0.7m²) provide a comfortable viewing area. The bicolour LEDs are fully dimmable from 10 to 100% with a wide colour temperature range of 2700K to 5600K.
Thanks to our custom-developed proprietary software and its user-friendly built-in interface you can wirelessly and simultaneously control unlimited devices in one go. Each model can be fully configured locally and also remotely by any of our models. This unique system is compliant for worldwide use.
The features include: bicolour LED light sources on all 3 sides of the mirror, and can be either mains or battery powered.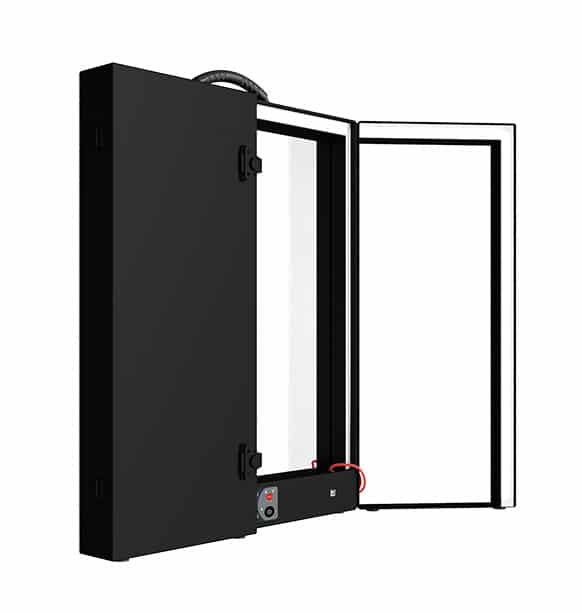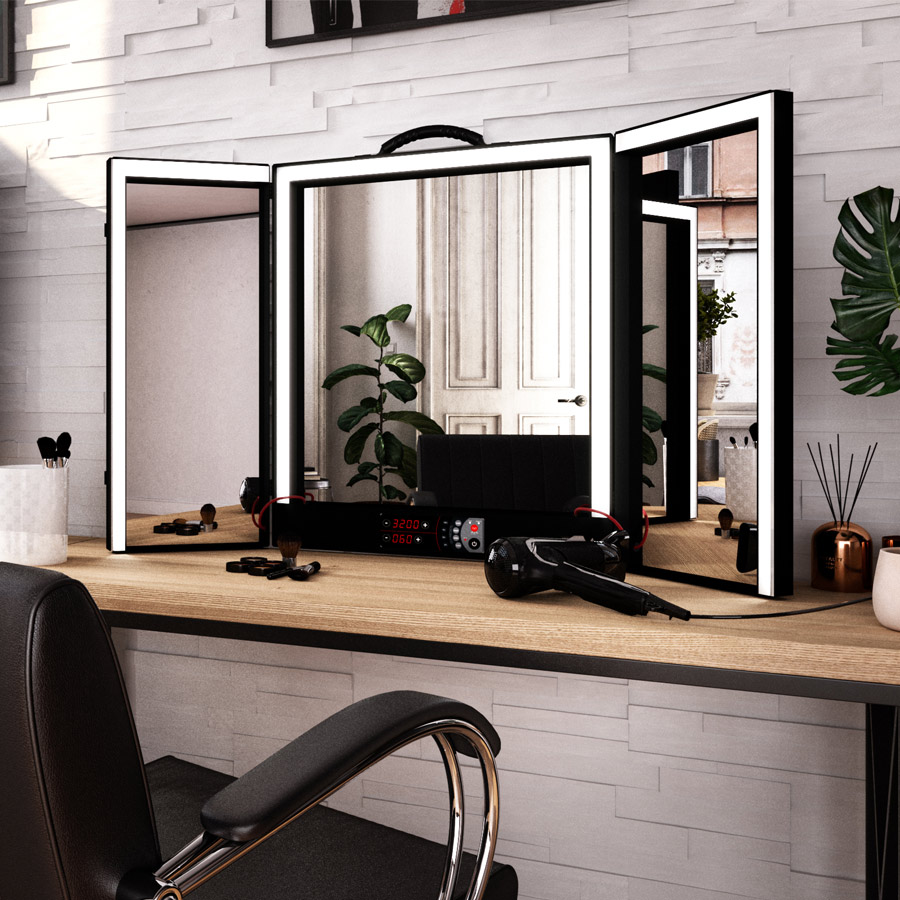 A solid anodized aluminium structure
Brightness from 10 to 100%
Remote control: custom-developed proprietary software
Lighting LED CRI > 96
2 outputs 240 VAC 10/16 A
2 USB ports
Dimensions (L x W x H): 61 x 73 x 9 cm / 24 x 28 x 3″ (Closed)
Weight: 15 kg / 33 lbs
Material: anodized aluminium
Finishing: matte black
Temperature range: from 2700 to 5600K
CCT presets: 3200K – 4300K – 5000K – 5600K
Power presets: 25% – 50% – 75% – 100%
Power supply: 110/240 VAC 50/60 Hz or 24 VDC 4.5 A/7A 170 W max
COMMUNICATION BETWEEN DEVICES
Highly integrated wireless ISM transceiver module.
868 MHz ETSI compliant for a worldwide compatible use.
User-friendly interface:
One transmitter that automatically sets up the other devices
Unlimited number of receivers
Indoor wireless range up to 100 m / 109 yd
Outdoor wireless range up to 1 km / 0.6 mi