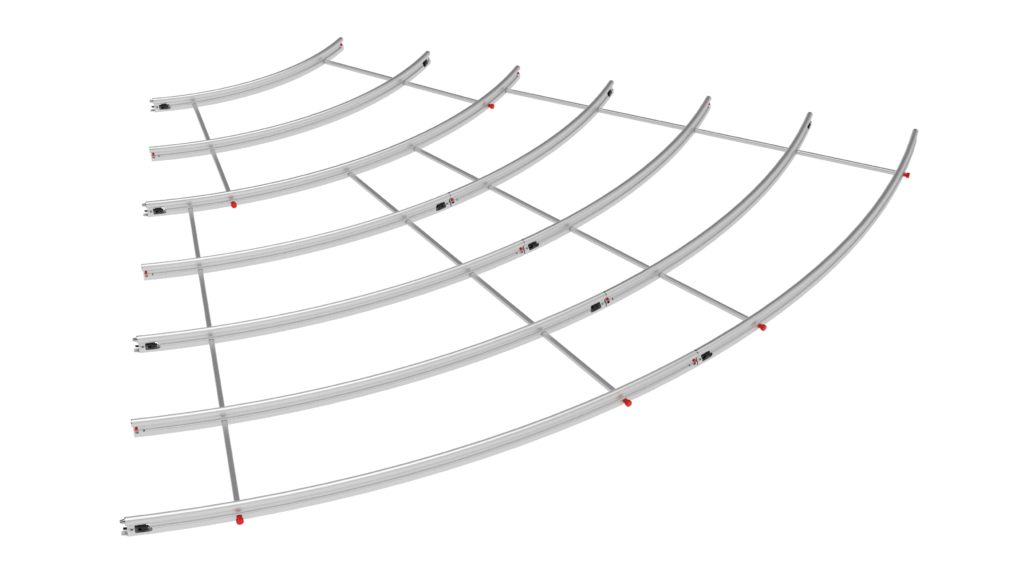 Curved rails designed from the ground up to provide smooth and sturdy circular dolly movement.
Every junction on all seven available diameters has been tailored to ensure a fluid transition between curved as well as straight tracks.
High quality extruded aluminium combined with specific curved track profiles provides the strength and reliability needed in fast paced work environments.
Lightweight, rigid anodised aluminium: 2.4 kg / 5.3 lbs per meter.
Diameter from 2.76 m / 9' to 10.20 m / 33': many possibilities to meet your needs.
Effortless assembly. Quick locking and unlocking system. No tools necessary.
Flawless transition.
Curved Track
144 cm / 4′ 8" – Ø 276 cm / 9′

€

955,00 Add to Cart

Curved Track
209 cm / 6′ 10" – Ø400 cm / 13′

€

1.060,00 Add to Cart

Curved Track
274 cm / 9′ – Ø524 cm / 17′

€

1.070,00 Add to Cart
Curved Track
169 cm / 5′ 6" – Ø648 cm / 21′

€

855,00 Add to Cart
Full Circle Curved Track
Ø276 cm / 9′
6 Pieces

€

5.695,00 Add to Cart

Full Circle Curved Track
Ø400 cm / 13′
6 Pieces

€

6.390,00 Add to Cart

Full Circle Curved Track
Ø524 cm / 17′
6 Pieces

€

6.420,00 Add to Cart
Full Circle Curved Track
Ø648 cm / 21′
12 Pieces

€

10.220,00 Add to Cart

Full Circle Curved Track
Ø772 cm / 25′
12 Pieces

€

10.840,00 Add to Cart

Full Circle Curved Track
Ø896 cm / 29′
12 Pieces

€

11.855,00 Add to Cart

Full Circle Curved Track
Ø1020 cm / 33′
12 Pieces

€

12.810,00 Add to Cart