Much more than just carts on wheels
If there's a need for it, we've got it. Our wide selection of carts and trolleys range from stocking, to stacking, to transporting and working. Made entirely of aluminum, they were carefully designed to meet all your specific needs and provide you with reliable equipment. To keep all your delicate gear as safe as it should be.
Can't find what you're looking for? Just get in touch with us. Chances are we have the gear you need. And if not, we can always make it for you.
Work. Store. Transport. No need left unmet.
Whether you need a cart with wheels to work on, store gear or transport your equipment with, our highly modular and easily handled DIT carts got you covered. Our watchword: reliability.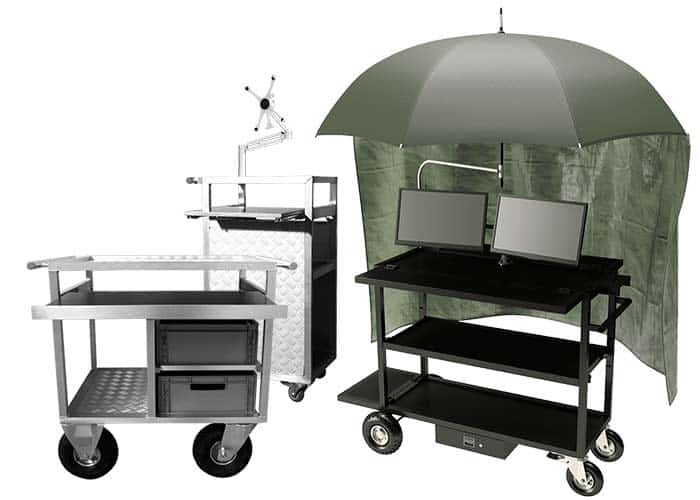 Backstage carts designed for every gaffer need.
From SkyPanel carts to stand trolleys, find the perfect cart to handle and move all your grip, lightning and electrical accessories. The best carts that best boys deserve.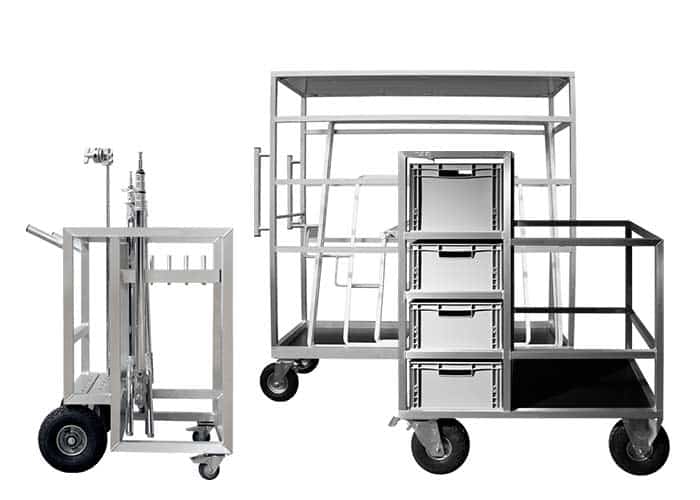 Your gear is now just a drawer away.
Never waste time searching for your gear again. Our modular storage carts are easy to access, easy to handle, and will keep all your equipment right at hand. Customize your storage cart to perfectly meet your needs and make your life easier on set.
These carts are made for stacking.
And that's just what they'll do. Our handling carts and trolleys will carry anything you need without flinching and allow you to handle the heaviest loads in the easiest way. Designed to safely carry your most delicate equipment anywhere.
Need a cart to use as an open air bar? A trolley to carry fire extinguishers? A transport system to safely move your beautiful LED mirrors? Just take your pick.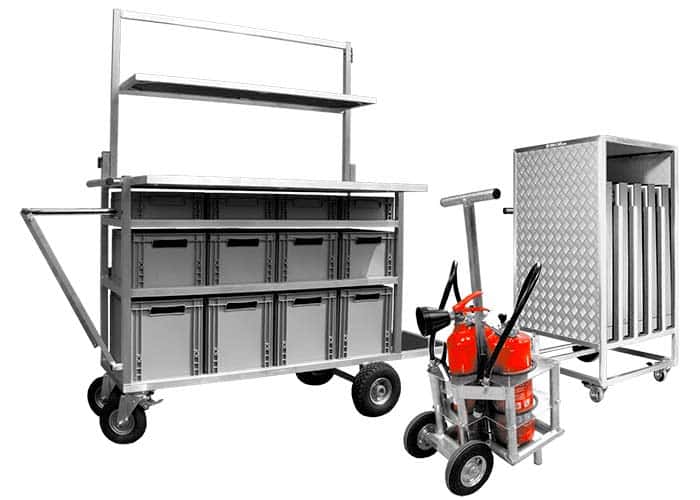 What are production carts?
Film carts are the best way to have your on-set equipment with you at all times. Mobile, innovative and easy-to-use, they are built with high durability components to provide you with the safest solution for transporting, stocking or working with your professional video production equipment such as lightning, grip or electrical gear. Their brakes system provides performance safety for the weight of whatever they are carrying. Whether that be a big set or small item; these carts can fit wherever needed perfectly making them virtually unbeatable in terms of convenience.
Note that you don't have to work in video production to find film carts useful. If you work in any industry that has anything to do with moving and storing hardware, then these carts will be perfect for you and your company. They come equipped with everything from trash cans all the way up through heavy-duty equipment storage options – giving every type of business owner just what they need.
What are film carts used for?
When it comes to production, a cart is an essential tool. A production cart is a wheeled device used for storing, carrying and moving equipment in TV or film production. These versatile carts can store camera gear as well and will help you keep your equipment organized while filming, from cameras to lights stands in between other much more diverse items like make-up kits and costumes. Film carts can also be used as workstations for you to do you digital imaging work from anywhere you like.
What kinds of film carts are there?
Cine Factory carries a wide variety of production carts to suit every need. From basic models with light weight capabilities and adjustable shelving, all the way up through larger units designed for high intensity sets or heavy duty filming environments - we've got what you're looking for.
More specifically, our film carts fall into 5 main categories: DIT, gaffer, storage, handling and specific carts. Each model was specifically designed to fulfil your every need for your day on the set; whether you need to transport, store or move your equipment, we build the right cart for you. We can even customize carts and create them from scratch to suit your more specific needs.